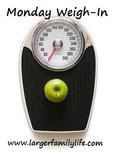 I know I'm late reporting in again. I apologise.
Well last week brought about quite a few eye opening occasions which gave me the much needed kick to get back onto the weight loss wagon.
Firstly was my mum's reassurance that the pyjama top she gave me should fit as "I bought the biggest size I could find." Oh goodo. That makes me feel great.
Then I had to face the fact that I'd gained almost 6lbs over the festive season. Why does weight take longer to lose than it does to put on?
Then, I finally stopped kidding myself that I was a 14 (US size 12) and finally bought a new pair of jeans in a size 16.
They were small.
Finally, I measured myself.
Oh.


My.


Goodness.


Gracious.


Me.


And a few other words I shall not repeat. They were bad words. Bad words.
Clearly I have a passion for torturing myself. Some may say I'm facing up to things. I say to them… bad words. Why oh why did I feel the need to get the measuring tape out and count the very large numbers they showed?
I was devastated. Completely and utterly devastated because I couldn't deny any longer what I've known for a long time. I'm fat and I need to do something about it. Seriously, I need to do something fast.
I had to acknowledge and accept that because I was faced with the stark realisation that one thigh now measured what my waist did when I married nine years ago.
You have no idea how sick it makes me feel to admit it publicly. It was demoralising enough to admit it to myself.
I felt ugly, worthless and so very ashamed.
I had a choice to wallow in self-pity or to pledge to do something about it.
I decided that I was going to make no more excuses. I was going to give it my all this time. Now even though I was sceptical about Weight Watchers new ProPoints system I decided I would follow it to the letter. I have gone back to basics, tracking everything that I eat and weighing my food. I have an abundance of fruit and vegetables to eat and I haven't denied myself anything, even having a takeaway curry on Saturday evening using my weekly extra points.
I also dusted down the Wii Active and have embarked once again on the 30 day challenge. I really do want to do it this time and have set myself a mini goal of losing a stone and a half (21lbs) by the time we go to Disneyland at the end of March.
Weigh-in was yesterday morning and….
I lost 5lbs!
Perhaps the ProPoints system does work after all! Let's see what next week brings. I'm going to stick to it. I am!
My report for this week is as follows:
Starting weight: 13st 1 (or 183lbs)
Week 9 results: Lost 5 lbs
Current weight: 12st 2lbs (170lbs)
Total loss to date: 13lbs
Amount to lose before freeing Skinny Me: 47lbs