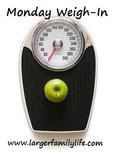 I didn't get back to tracking properly last week, rather keeping a mental note of what I was eating as it seems I've done it so long I know the points of the foods I eat regularly. I know that I should make a real effort to get back to it. There are no excuses.
Several members of the household have been ill this last week and I wasn't able to avoid the bug either. I did exercise every week day although I did step it down a gear, doing just one or two workouts a day. I really didn't want to stop completely, thinking that as long as I was able to exercise, then I would. If I were so ill that I couldn't then I wouldn't. I think it's so easy to find excuses to stop completely but then I find it difficult to get back into. I'd rather try to persevere. Knowing that I'll be taking a break soon when we go away gave me the incentive to do what I can now to try and minimise the damage that will no doubt be done. I'm bracing myself. I'm still wondering what to do when I've completed the Wii Active More 60 Day Challenge. I feel like I need something a little different but don't know what is recommended.
Even though I wasn't feeling too good I did still manage to get a little physical at least down on the allotment on Saturday. A fair bit of digging managed to get the lungs working, until I finally had to concede that I just couldn't do any more. I hate feeling unwell.
Consequently this is the first week I've failed to lose anything at all. I don't know if it's a plateau that I've hit. If it is it isn't likely to last long, as I'm planning on taking a few days off when we go on our holiday. I'll get straight back to it when we return though!
My report for this week is as follows:
Starting weight: 13st 1 (or 183lbs)
Week 16 results: Stayed the same
Current weight: 11st 5½lbs (159.5lbs)
Total loss to date: 1st 9½lbs (or 23½lbs)
Amount to lose before freeing Skinny Me: 2st 8½lbs (or 36½lbs)
You can follow my progress each week by subscribing to the Larger Family Life blog feed. It's a full feed so you don't even have to visit the blog but can keep up with the latest through your reader.