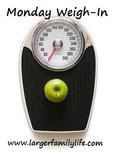 Week 1, as last year, has got off to an excellent start. However, as last year, I'm under no illusions about it. I know that much of it is water rather than fat hence the relatively large weight loss that the scales report. But you know what? I'll take it. It's encouraging and goodness knows, I like to be encouraged. Don't we all?
Due to Joseph only being three weeks old and delivering him by caesarean, I'm as yet unable to exercise at all. That's a good excuse as any eh? It's true though. Exercising is the last thing on my mind at the moment. I'm just thankful to be back to walking normally. Well, as normally as I have been in the last three weeks. Maybe I'll dust the Wii Fit off in another few weeks. Or perhaps I'll have thought of another excuse not to by then. Who knows?
My report for this week is as follows:
Starting weight: 13st 1 (or 183lbs)
Week 1 results: Lost 8lbs (*cheer*!)
Current weight: 12st 7 (175lbs)
Amount to lose before freeing Skinny Me: 52lbs
Is anyone out there joining in?
(Shouldn't the question be simply, "Is anyone out there?!")