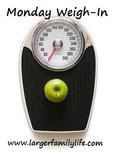 What can I say except that the Monday Weigh-In will be taking a break until the autumn. That is if God is willing and the pregnancy continues to go well. What can I replace my Monday whitterings with? No more Monday Weigh-Ins. Or should there be? This is what I mean.
I joined up with WeightWatchers Online a week after Oliver was born last year. My starting weight was 13st 5lbs (eek!), and I managed to get down to 10st 5lbs.
I hope I won't get up that high again. I was already more than a stone and a half lighter at the start of this pregnancy than I was the last time, so I'm hopeful my pregnancy end weight won't be as much. But, I have to confess that I'm quite reckless when I'm pg. This time, I hope to keep more mindful of the things I'm eating.
Now, I think much of my success these last 37 weeks was down to keeping myself accountable on this blog. If I were to continue keeping track here I would be inclined to keep an eye on my pregnancy weight, and therefore hopefully not put as much on. But then again, I don't know. Should I just wait until October and then start afresh?
Then it still leaves the question "What to blog about on Mondays?". Should I do a general pregnancy round-up post each Monday instead?
Or do I combine a general pregnancy post with a pregnancy weigh-in so you can all make sure I don't turn into a beached whale again?
Or just keep it free'n'easy and blog about, uh, whatever.
Decisions, decisions.
Help me to decide!