Thirty three weeks sounds like a terribly long time doesn't it? I never thought I'd still be trying to lose weight.
The first couple of months were great going. I was so positive with being able to lose a couple of pounds or so each week but now it is just so dreadfully slow. I've been within this stone bracket for so long it seems. Every time I get past another stone it makes me happy. You know, to be able to say a smaller number than I have been. Especially since I haven't been this weight for about six years. But oh my, the next digit down is a long time coming.
Still, on the upside, I've managed to lose one pound this week. It's a loss, not a gain, so still going in the right direction. I'm hoping next week might give me a two pound loss, just to give me a bit of a kick. I suppose though, that as long as I continue to lose something each week I'll be happy. Not so much so if I stick, or heaven forbid, gain!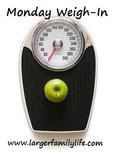 So here are my stats so far:
Starting weight: 13st 5lbs
Current weight: 10st 5lbs
Loss so far: 42lbs
Are you trying to lose weight too? Join in, link up to your latest post update using Mcklinky below, and let's motivate each other!