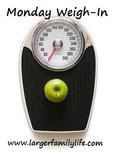 Nothing new to report this week. I'm still following Weight Watchers Online but confess that I haven't tracked as well as I should have for the last week. I know that once that happens things tend to start slipping as I conveniently "forget" things that I've eaten and my brain thinks I've consumed far more than my hips are telling it I actually have. I must get back into the habit of tracking everything especially since I seem to be going a little overboard with meringues lately.


I am also sticking to the exercise routines but I have to admit that I'm beginning to get a little bored of the step routine now. I've been doing it five or six days for the last few weeks and it is starting to get a little repetative. I do wish Nintendo would bring out a workout which is exclusively made up of various step routines. I enjoy the workout and I do work up a sweat but I'd like a little more variety. So, Nintendo, if you have something like that in the pipeline you'd like me to review do let me know ;-).
Is anyone else reading this trying to lose weight? How are you doing? What are you doing? Do you have any tips to share? I'd love to know.
My report for this week is as follows:
Starting weight: 13st 1 (or 183lbs)
Week 15 results: Lost 2 lbs
Current weight: 11st 5½lbs (159.5lbs)
Total loss to date: 1st 9½lbs (or 23½lbs)
Amount to lose before freeing Skinny Me: 2st 8½lbs (or 36½lbs)
You can follow my progress each week by subscribing to the Larger Family Life blog feed. It's a full feed so you don't even have to visit the blog but can keep up with the latest through your reader.