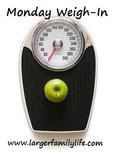 Since last week I've kept up with the workouts. I managed six days out of the last seven and did between two and four different workouts on each day. The two main workouts are still the 60 Day Challenge and half an hour of Step, both of which are on
EA Sports Active: More Workouts
on the Wii. If you already have
EA Sports Active: Personal Trainer
you should already have the leg strap and the exercise band and the follow up Sports Active: More Workouts is such a fantastically reasonable price that it's well worth the minimal investment. It's far, far cheaper than a gym membership plus you can do it in the comfort of your own home whenever you can best fit it in (preferably with the curtains shut so inquisitive passers by don't see you huffing and puffing your way to Skinnyville).
Quite honestly, I don't always feel motivated to exercise. I've been so tempted on some days to think "Sod it!", and not to bother but then it would only be myself I'm letting down. Nobody else really cares whether I do exercise or not, or whether I stuff my face silly with rubbish. I think of the progress I've made so far and on the days I'm completely unmotivated, tell myself to just get through today's workout. The funny thing is that other days I'm raring to go.
Weight Watchers wise, I kept within my ProPoints limits too last week. This was no mean feat considering my friend Amanda and her son came over and I had made Choc'n'Baileys Brownies, Butterscotch Tart and a couple of Chocolate Pies in honour of their visit. It really was in honour of their visit, despite the fact that I ate more than anyone else, glutton that I am.
Keeping this in mind, I decided to up the workouts for the rest of the week plus fit in an extra three on Saturday, whereas I normally take the weekends off.
All in all it has been another successful week with another one pound loss, taking me over the stone and a half mark. This week's weigh-in was done at the usual time yesterday but I didn't get around to updating on the blog as we've been busy preparing for my father-in-law's funeral tomorrow, hence the delayed update today.
My report for this week is as follows:
Starting weight: 13st 1 (or 183lbs)
Week 14 results: Lost 1 lbs again
Current weight: 11st 7½lbs (161.5lbs)
Total loss to date: 1st 7½lbs (or 21½lbs)
Amount to lose before freeing Skinny Me: 2st 10½lbs (or 38½lbs)
You can follow my progress each week by subscribing to the Larger Family Life blog feed. It's a full feed so you don't even have to visit the blog but can keep up with the latest through your reader.