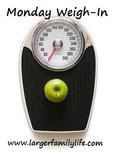 I have stuck to the plan well again this week. I haven't found it difficult, especially after discovering an evening treat saved for after all the kids are in bed, of a couple of meringue nests topped with a spoonful of 0% fat greek yoghurt and a handful of grapes. Mmmm, now that is something to look forward to of a daytime! And all for just 1 ProPoint each.
I've been continuing with the exercising too having worked out six of the last seven days. I'm over halfway through the Wii Active 30 day challenge now, and also do a fast, high intensity step workout for 30 minutes a day too. I've now introduced a 3 times a week abdominal workout and let me tell you, after three caesareans, it's not easy trying to find those abs again. I remember the days they were strong and firm. Long, long ago…
Despite my efforts I was expecting little difference this week, if any at all, thanks to the dreaded TOTM. I have noticed that weight loss slows down considerably, often staying the same or even showing a gain during this blessed time. Water retention has a lot to answer for. The good news, and something I do try to remember, is that it is only temporary, and as long as I continue positively following the ProPoints plan and stubbornly endure the exercises each day, I am pretty certain that next week will make up for the slowness of this week.
My final results this week then showed a 1lb loss. At first it doesn't seem like much of a difference but come back here tomorrow for something that may surprise you. Once you see it, you'll think differently about "only" losing a pound at a time. Now I need to lose another 1½ lbs to have lost 10% of my starting weight. Hopefully next week I'll hit it, or even better, surpass it.


My report for this week is as follows:

Starting weight: 13st 1 (or 183lbs)

Week 11 results: Lost 1 lbs

Current weight: 11st 12lbs (166lbs)

Total loss to date: 1st 3lbs (or 17lbs)

Amount to lose before freeing Skinny Me: 3st 1lbs (or 43lbs)
Remember, you can join in or just follow my efforts each week. Sign up to the full feed here so you can catch up with my efforts through your reader each week.