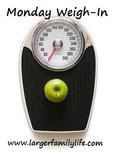 If you're expecting an upbeat and positive post from me today you may as well stop reading now because I'm fed-up, disheartened and not at all upbeat nor positive.
I've gained.
I've gained a whole half a pound.
It may not seem much and you're probably laughing at how such an insignificant amount can make me so moody but I am just so frustrated!
I have been so careful with what I'm eating. It's normally muesli for breakfast (all weighed out and ProPointed correctly), a big huge salad for lunch and then my evening meal and hot chocolate and snack before bed… again all ProPointed. I'm well within my limits and I'm not even using all my extra 49 points per week.
So why aren't I losing?!
I am resigning myself to being fat forever.
Forever fat.
Polishing off the apple crumble this morning after I weighed myself probably won't help this weeks efforts. You may as well not bother coming back next week. It'll only be a gazillion pound gain.
Sigh.
Woe is me.
Not a pretty pity party going on here, is it?
My report for this week is as follows:
Starting weight: 13st 1 (or 183lbs)
Week 6 results: Gained ½ lb
Current weight: 12st 3lbs (171lbs)
Total loss to date: 12lbs
Amount to lose before freeing Skinny Me: 48lbs (still).
I'm off to wallow. Pass the chocolates.