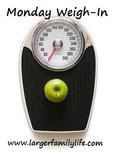 Remember how last week I was waiting for Weight Watchers to get back to me regarding a
problem with their online planner
saving my info? Or rather,
not
saving my info. And you remember how I was hoping that I would make it down below the 12 stone mark?
Well, how can I put this?
I'm still waiting.
For both.
Weight Watchers did finally get in touch with me with a bog standard response about clearing my cookies. They obviously hadn't read my email properly. I hate it when places do that. So I still have the problem with their online planner not saving my info. It's usually ok if I'm saving for the day of the week I'm on but if, for example, I go to add something I ate last night the little "Save" button flashes and flashes and flashes and flashes… (you get the idea) and doesn't actually save anything. I end up leaving it for ages going through the motions as if it's trying really hard to save the extra information I've given it but nothing actually comes of it and I end up losing every change I've made. I'm getting fed up with it. More so when I think that it's costing me £10 a month for something that doesn't work properly.
Despite not being able to go back and add the previous night's pack of Snack a Jacks or whatever, I'm pretty sure that I stayed within my ProPoints allowances during the week. Even when you account for the packet of fig rolls on Saturday night and the dumplings in my vegetable casserole yesterday. I got excited during the week when my serial weighing showed me drop another pound. The joy was short lived when I got on the scales this morning and was faced with the reality.
I stayed the same.
No progress at all.
I'd have been happy with even a half a pound loss. Actually, knowing me, I probably wouldn't have been. I really wanted to get down to a round 12 stone number, or preferably 11 stone 13 ½ would have been nicer.
I'm hoping now that I don't take this very minor setback to heart and think "Oh, what the…" and eat a tub of ice-cream in one sitting. (Although, as the weather is chillier, I'm less inclined to feast on the cold stuff). I'm trying to keep my focus and am trying to convince myself that next week I'll have a super big loss to make up for this week.
Focus.
My report for this week is as follows:
Starting weight: 13st 1 (or 183lbs)
Week 6 results: Lost 0 lbs
Current weight: 12st 2½lbs (170½lbs)
Total loss to date: 12½lbs
Amount to lose before freeing Skinny Me: 47½lbs (still).