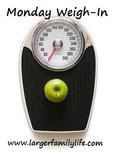 I was hoping to be able to provide feedback on Weight Watchers new and supposedly improved
weight loss system, ProPoints
. I can't. Unfortunately the online planner you are meant to use to calculate your ProPoints and track your consumption hasn't been working or saving my changes. It has also become apparent that the Weight Watchers automated email's promise of aiming to get back to my query within 24 hours is optimistic to say the least. It's been five days so far and I've yet to receive a response. While I'm quite sure that the ProPoints system does work, after all, I doubt WW would jeopardise their name for something that didn't have proven results after extensive research, I'm not too pleased to be paying out money for something I can't use. Hopefully, someone from the customer service team might, perhaps, be of some service and reply.
I've been trying to track in my head as I've gone along under the old weight loss system given that I'm familiar with the approximate points for most of the things I've been eating. Well, apart from the odd biscuit or several which were efficiently consumed on Saturday. I blame my friend Amanda's visit for that lapse.
So despite an online weight loss system I couldn't make use of, a selective failing memory when trying to remember points values of foods I've been scoffing and a momentary loss of self control over several digestives and chocolate chip cookies, I've still managed to weigh in with a 2½lb loss this week.
Yay me!
Five weeks after starting and I'm a pound and a half away from losing a whole stone in weight, averaging a loss of approximately 2½ per week. I hope I can continue at this rate as I'm quite happy with it and I can see some noticable changes taking place. I'm hoping I can get down under the 12 stone mark during this next week.
My report for this week is as follows:
Starting weight: 13st 1 (or 183lbs)
Week 5 results: Lost 2½ lbs (*cheer!*)
Current weight: 12st 2½lbs (170½lbs)
Total loss to date: 12½lbs
Amount to lose before freeing Skinny Me: 47½lbs