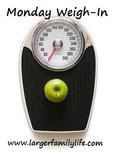 Well, the chocolate is no more in this house. This would be much easier if Mike stopped buying Tesco's Oatie biscuits, their own brand equivalent of Hob Nobs only much cheaper and just as tasty. It would also be much easier if Asda delivered a whole section of chilled products I'd ordered which included my WeightWatchers yoghurts. (BTW, Asda, because I know you read my blog, I'm still waiting for almost £13 to be refunded back to my card for products you charged me for but failed to deliver).
Being the serial weigher that I am I expected a much better result than I got this week. At one point the scales went all the way down to show a lovely 6lb loss. Talk about lull me into a false sense of security. Not that I pigged out after seeing that but was looking forward to reporting the loss of a hefty chunk of body weight.
Not to be.
Still, I can't complain too much as this week has resulted in a 2lb loss. Not as good as a 6lb loss in one week but a 2lb loss is more likely to stay off for the longer term. Common sense needs to prevail at some point I guess. It doesn't stop me wishing to wake up as Skinny-Me in the mornings though.
Nevertheless, I'm 2lbs closer to releasing Skinny-Me from her flubber and cellulite walled confines. I hope I can continue the downward trend this week.
My report for this week is as follows:
Starting weight: 13st 1 (or 183lbs)
Week 3 results: Lost 2lbs (*cheer!*)
Current weight: 12st 9.5 (177.5lbs)