Hmm.
1lb on.
Again.
Seems this pound is just going back and forth, on and off. Like a little pound of fat which is doing step aerobics. Only not burning away. Just keeps coming back. Again. And again. And again.
I do not like you, little pound in weight. I do not particularly like your friends either. You have made yourselves comfortable on my hips, thighs and behind for far too long.
This week, you leave.
I mean it!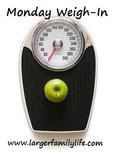 If you are blogging about your weight loss journey, grab the button above and link your post to Mcklinky below. Let's get motivated!